7/5/2020 (Sunday, 07:51 PM):
Not today!
Poetry: Not Today



7/5/2017 (Wednesday, 05:16 PM):
When life gives you lemons...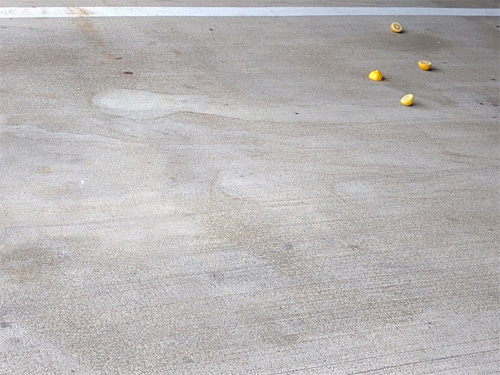 7/5/2015 (Sunday, 09:18 AM):
What to do with leftover pizza? Make a crepe with the top part of the cheese of course!




7/5/2013 (Friday, 09:23 AM):
New posters on the way: The Rasmus, Stabbing Westward Darkest Days, and Faithless We Come 1. Also, today marks the 20th anniversary that Bjork's Debut album came out!




7/5/2012 (Thursday, 09:58 PM):
Totally remaking a friend's resume & cover letter. I'm getting quite good at this.




7/5/2011 (Tuesday, 11:01 AM):
Just ordered The Dears first album, latest album, and bibliography book. I think my collection's pretty complete now, yay!




7/5/2010 (Monday, 11:13 AM):
The most I did for 4th of July this year was 1. eat Korean food, 2. see Toy Story 3, 3. mow the lawn,4. watch America's Got Talent. However, I am excited to see my neighbors in honor of the coolest bartenders leaving the Maplewood Grill later!




7/5/2009 (Sunday, 11:58 AM):
Almost done season 1 of Dead Like Me on Hulu!




7/5/2008 (Saturday, 01:06 PM):
Happy 50th birthday, Bill Watterson!!




7/5/2007 (Thursday, 01:02 PM):
Officials gave the all-clear Wednesday afternoon at the National Mall, after severe storms rolled through the area, prompting tornado warnings and a temporary evacuation of the open spaces surrounding the U.S. Capitol and Washington Monument.




7/5/2005 (Tuesday, 05:35 PM):
THE BLACK CAT- THUR AUG 18- GOGOL BORDELLO - Could be pretty cool!




7/5/2004 (Monday, 10:28 PM):
I stopped by the new place in Vienna tonight to pick up the keys! It was a really good 4th of July at McPherson Square. I'll try and post pictures from my camera phone when I get a chance.




7/5/1999 (Monday, 08:54 PM):
I do not know why I have lost what I have won.
Poetry: Desert Sunflower




7/5/1998 (Sunday, 08:55 PM):
I stare into her eyes, through her eyes. Time stands still.
Poetry: I See Her