12/13/2018 (Thursday, 12:33 PM, Food):
Yum!! A nice surprise being able to buy this much chocolate from my coworker JD and his company Sourire. I hope they succeed, the chocolates were so good!!!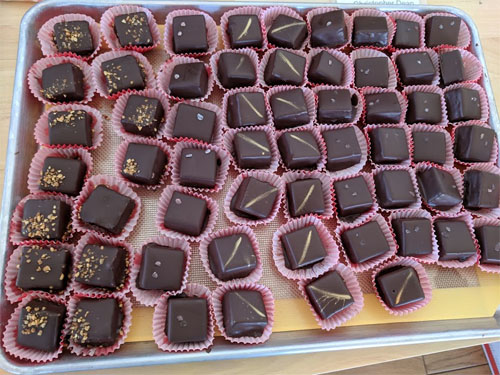 12/13/2014 (Saturday, 10:56 PM):
Although it's also fun to see The Slackers again, The Rock And Roll Hotel is the Worst. Venue. Ever. Dinner at Red Rocks before the show was fun though!
Concerts: The Slackers at Rock And Roll Hotel




12/13/2013 (Friday, 06:59 AM):
Just purchased my concert photo book Seen Any Concerts Lately!




12/13/2006 (Wednesday, 01:40 PM):
The Music made their return to the live stage after an absence of over 15 months when they played a secret gig at Leeds Cockpit recently. The gig, which was only announced on the band's website, sold out in only 12 minutes!




12/13/2005 (Tuesday, 02:53 PM):
So my work trip to Dallas fell through. I was here yesterday.




12/13/2004 (Monday, 09:31 PM):
I just created my very own country on Nation States today. It's called the United States of Monetary. Marijuana IS legal, and nobody cares for religion or spirituality. Hallelujah! Let's see how long my country will last!




12/13/2003 (Saturday, 10:41 PM):
We had some gift cards for Best Buy, so we hit that up and I got the Hot Action Cop CD and it's pretty damn good so far! Kinda like Kid Rock with style. Or as I originally thought of it, Alice In Chains meets Everlast. Cool!!




12/13/2002 (Friday, 10:08 AM):
By just walking into work this morning, I saw a huge disco ball over the reception desk and Studio 54 signs all over the front door. I remembered that my department is having a party today. Too bad I'm heading out of town!